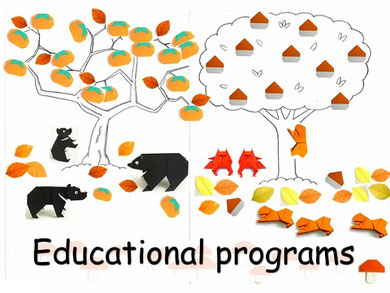 Here are some sample works of the educational resources and programs that I have produced in the past. Some were made for my teaching, some were my donations to the organisations that I volunteered for, and some were produced as a paid work.
↓ Click on the picture or the link to view each item in details. ↓
Animal x Education program @ Sus juku
Feb-Dec 2012
I designed an educational program for a juku in Japan called Sus Juku.
:
I have designed 8 scenes that represent Japan's nature in four seasons (2 each in each season), which students are guided to make using illustrations and folding origami. Each scene has a theme that the teacher talks about, such as biodiversity, relationship between human and nature, adaptation etc. In the program students learn about each theme with the Powerpoint slides with relevant pictures and movies, then move on to the hands-on activity of drawing, folding and glueing to make the scene. Read more
LOTE (Japanese) resources
Teaching a kid's song with origami finger puppets
Feb 2012
I made those finger puppets of a pig, a racoon, a fox and a cat for a Japanese lesson for a two-year-old boy. I was teaching names of animals in Japanese, and I sang a kid's song in Japanese called "kobutanukitsuneko (こぶたぬきつねこ)". [Read more]
Prac teaching - Year8 Japanese
July-Sep 2010
Made worksheets for Year8 Japanese prac teaching. Students learned the body parts of the human and animals, and also learned to make sentences of how to say whwere animals live.
Target group: Year8 Japanese students
Science / Biology resources
Prac teaching - Year8 Science
April-June 2010
Made a work sheet for explaining how the ecosystem is maintained in the rainforest, using my illustrations of Australian rainforest animals and plants.
Target group: Year8 Science students
Explained the concept of food web using origami animals. Students also made their own foodweb diagram of their chosen ecosystem as a group work.
Target group: Year8 Science students
Oral Presentation for zoology assignment
Sep 2009
This is a sample of animated powerpoint work for academic presentation assigned for a Zoology course at my uni. The animations effectively visualised the complecated experimental procedure and the (boring) analytical graphs to make the best use of given presentation time. See detail
Zoo/Wildlife conservation organisation
Work Experience at Singapore Zoo Education Department
Jan - Feb 2009
Spent 5 weeks in Singapore Zoo and worked with the Education Department. Experienced various work of Zoo Education including giving presentations, zoo tours, facilitating school excursions, running an event booth... see details
Bat Care Brisbane Educational Programs
Jan 2007
Made a Power Point slide show for a local wildlife protection society in Brisbane. It was made for their events to educate the local children about bats. It consists of quizes, fun animations and educational messages about wildlife conservation. See detail
Target group: Children in Brisbane
Contact me
Feel free to contact me for any inquiries about or requests for my work.
Yuka Nakamura